Works:
For TO THE SQUARE 2 (Checkpoint Helsinki, 2014): Radio Pravda
For RE-ALIGNED ART from Russia, Ukraine and Belarus (Tromso Kunstforening, Norway): VillmarksLiv (a brief comment on 22 July, media-memory, visual neoconservatism and the oil-welfare-state)
For RE-PUBLIC: A Comment on Co-Dependence, image used in e-flux (Helsinki, 2013)
Concerts with the band Arkady Kots, on several occasions.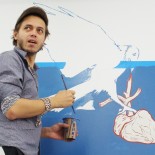 Nikolay Oleynikov is a Moscow based artist and activist. He has developed a unique practice of collective "learning murals" and graphic works in the tradition of the Soviet monumental school, comics and surrealist imaginary with roots in punk culture. He is a member of Chto Delat?/What is To Be Done?, editor of the Chto Delat? newspaper, on the editorial board of Moscow Art Magazine (2011), co-founder of the Learning Film Group and the May Congress of Creative Workers, as well as a member of the Arkady Kots band.
Oleynikov is represented worldwide through his solo projects as well as with number of collectives. He has had numerous international shows.