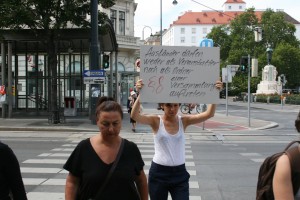 is a Belarusian artist and activist in opposition to the regime of Alexander Lukaschenko. Her Office for Anti-Propaganda (founded 2007), continuously invents new strategies and tactics for countering the oppression of freedom of thought and action in Belarus today.
////////////////////////////////
Marina Naprushkina's work concentrates on power structures in nation-states, often making use of nonfiction material such as propaganda issued by governmental institutions in Belarus. Since 2007 she runs the Office for Anti-Propaganda, which participates in and organizes political actions and also publishes newspapers. The focus is on Belarus "The Office for Anti-Propaganda" is the result of long-standing work in gathering and archiving the original propaganda material and the works of the artists. The works demonstrate how state authority affects society, and transforms democracy into an illusion for those living under the persistent hegemony of the ruling network.