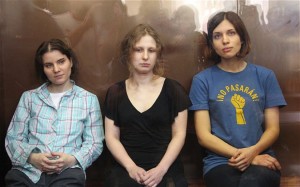 Ekaterina Samutsevic had experience at the Moscow Power Engineering Institute and a defense enterprise behind her, when she decided to study art.  Joining the actionist current in autumn 2011, she was a core co-founder of Pussy Riot. Of the three members of Pussy Riot prosecuted for their action Mother of God, Drive Putin Out, she is the only one to escape a jail sentence, although she is still prohibited from leaving the country.
Ekaterina Samutsevitch wrote:
"I was born in Moscow on August 9, 1982. After completing secondary school in 1999, I entered the Moscow Power Engineering Institute from which I graduated in 2005. I worked at a defense enterprise for two years when I gave up my job and enrolled in the Rodchenko School of Photography and Multimedia (Moscow). I finished my studies in 2009. Going into art practice, I was mainly in the current of actionism. In autumn 2011, I became a co-author and one of founders of Pussy Riot,  the idea of which already appeared in 2010.
Nadya was born in Norilsk in 1989, on the 7 November (Revolution Day). After completing secondary school she moved to Moscow and entered Moscow State University in the Faculty of Philosophy. After four years of study, she took an "academ" (a break from studies for private reasons) to fully engage in art. Since the end of 2007 she has been involved in actionism, studying art at the same time. In 2011, she became a co-author and one of founders of Pussy Riot.
Masha was born in Moscow on June 6, 1988. After completing secondary school, she worked in the volunteer movement "Danilovtsy" (which supports mentally ill children in hospitals). She was one of organizers of the campaign for the protection of the Utrish National Park, and was connected to Greenpeace. Before she was arrested, she studied journalism, and also wrote poetry. Alongside us, Masha became a co-creator of Pussy Riot in 2011.
We all met in different places in 2008, and met regularly after that to talk about topics which concerned us.
Although in 2010 the concept and name of Pussy Riot didn't exist, we already wanted to create a feminist group to work on burning political issues in public space. In 2011 when the political tension came to a boiling point (with the rigged Duma election and consequent protest marches) we decided to start to act. In September the concept, the title and the image of the group were developed. In October 2011, we started our illegal performances in the subway and on a trolleybus roof, in which we invited people to "do a Tahrir" on Red Square. We have released five videoworks in all [now six,  https://www.facebook.com/PerpetualMobile.org/posts/628688690483974, ed.]. All of them are currently considered "extremist".