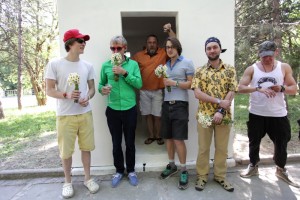 Works:
Three Chairs for RE-ALIGNED ART
Flag Washing Machine (Carousel) for RE-ALIGNED ART
The Construction for TO THE SQUARE 2
Free Construction at Frolivska 9/11 IDP Camp and at the VCRC, as part of The School of the Displaced curated by Perpetuum Mobile at The School of Kyiv, the 2nd Kyiv Biennial.
The ZIP Group's critical and at time hilarious works stimulate and engage, while creating self-organized community spaces, such as in their native Krasnodar. The art-group ZIP was founded in 2009 in Krasnodar, in the south of Russia. The group consists of four young artists – Eldar Ganeev, Evgeny Rimkevich, and the brothers Stepan and Vasily Subbotin. The ZIP is based at former Soviet factory (ZIP means Factory of Measuring Devices) and thus keeps connection with the Soviet past. The ZIP Group explores industrial artifacts of our history and makes co-projects with workers. In the project "Utopia" the factory becomes a kind of independent state – the "island" of freedom for artists and creative people. In Krasnodar as well as in entire Russia there isn't any system of art institutions which would support young artists. So, using the spaces of ZIP, they have founded own self-declared Institute of Contemporary Art — KICA.