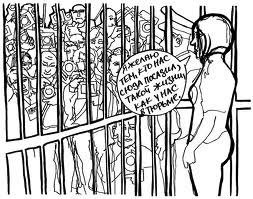 Series of illustrations with accompanying texts. Prints on paper, 59×42, 2012.
Installed in the "Infothek" where visitors of the TKF can relax and read the texts either on the wall or in a folder-booklet of the prints and texts of the "Chronicle". Read it here.

Victoria Lomasko introduces her own work as follows:
"2012 was marked by heavily attended protests by the Russian opposition. For the first time since the early 1990s, the protest movement in Russian attracted worldwide attention. Many people anticipated an "orange" revolution.
Beginning with the elections to the State Duma, on December 4, 2011, and until November 2012, I kept a graphic "chronicle of resistance" in which I made on-the-spot sketches of all important protest-related events. [In this work I] recall and describe the protests, in which I was involved as a rank-and-file albeit regular participant."
Originally published in Russian in Volya 8 (40), December 2012; subsequently published on Liva.com.ua; First published in English on the blog Chto Delat News in January 2013. Thanks to Thomas Campbell for permission to reprint his English translation of Victoria Lomasko's accompanying text.

INSTALLATION VIEWS//////////////////////////////////////INSTALLATION VIEWS