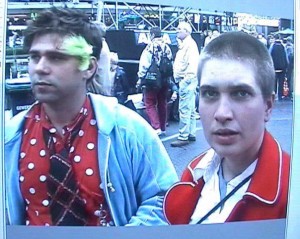 Vladan Jeremić and Rena Rädle are Belgrade-based artists and curators whose projects combine drawing, discussion, documentary video and photography. Their projects include various forms of interventions, public debate and their social dissemination. In their curatorial and artistic practice they research the intersection between contemporary art and politics. Urbanism today and emerging social movements, has been the focus of much of their recent work.
Rädle&Jeremić have worked together since 2002, co-authoring video works and projects. Their recent exhibitions include, Between Worlds II, Kraljevic Gallery, Zagreb; Self Made Urbanism Rome, NGBK, Berlin; Places of Memory – Fields of vision, Contemporary Art Center of Thessaloniki; Moving Forwards, Counting Backwards, MUAC, Mexico City; and The Housing Agenda, Cable Factory Gallery, Helsinki. They have worked with groups such as the Chto Delat? and Perpetuum Mobilε.
Jeremić&Rädle's works are in the collections of the Thessaloniki State Museum of Contemporary Art MUDAM, and Museum Reina Sofia, Madrid, among others. As a researcher, Rena Rädle has written and produced projects on the Holocaust and WWII history in the Balkans. As a curator, Jeremić was the director of the Gallery DOB of the city's Cultural Center of Belgrade, and has curated more than thirty exhibitions in local and international contexts. These include include I Will Never Talk About the War Again realized in Färgfabriken in Stockholm and in Kibla, Maribor. With Rädle, they were co-initiators of the project Call the Witness – 2nd Roma Pavilion at the 54th Venice Biennial. Jeremić is also a co-founder and member of ArtLeaks.