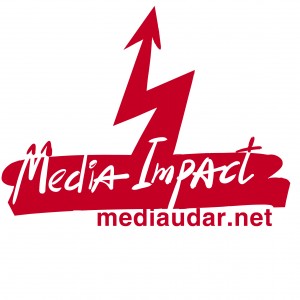 is a platform of activist art which has, since 2011, organised the first festivals of their kind in Russia. Coordinated by Tatiana Volkova of Zhir Gallery, it has developed exhibitions, international cooperation, and the discourse and practice of activist art in cities across Russia.
////////////////
The MediaImpact International Festival of Activist Art engages in research, articulation, promotion and development of art-activism – of art that aims to effect social change. The MediaImpact is the first festival of its kind in Russia that addresses and works with the phenomenon of activist art on different levels: that of discourse, exhibition, practice and collaboration. The geographical scope of this project is very broad, involving a wide network media-activists from different regions of Russia proper and of the post-Soviet space – Moscow, Saint-Petersburg, Krasnodar, Novosibirsk, Murmansk, Yekaterinburg, Yerevan, Minsk and Kiev, not to mention Europe and North America.
MediaImpact was initiated by ZHIR Project in autumn 2011 in Moscow. Exhibitions, lectures and workshops have taken place at ARTPLAY Center supported by the Partisan Museum; artistic interventions have spilled out into the streets and public spaces. Art that steps out into the public space in order to call for social change is a relatively recent phenomenon in Russia. Artists forge new forms of collective existence by joining forces with  subcultures and social movements and by claiming an activist identity—an identity marked by active participation in today's social and political reality. The development of this genre has evolved alongside the emergence of civil society in Russia, which has been accompanied by a rise of  mass protests on the one hand and political repression on the other. In this case artists become precursors to and catalysts of social processes, but they also assume a heroic role as they go out into the street to confront the system.
The project encompasses a variety of forms and communication strategies of art activism such as community-based art, ecology and cultural heritage, politics, tactical media, music of protest and environmental art.  The festival program consists of art-residencies, workshops and presentations,  discussions and debates, as well as exhibitions and public art actions.