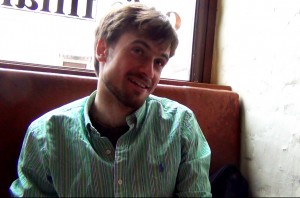 Pyotr Verzilov is an artist, widely known for his provocative political actions as part of the Voina group.
Currently, he is most visible as the husband and close collaborator of Nadezhda "Nadya" Tolokonnikova, perhaps most vocal member of the Russian feminist punk rock collective Pussy Riot. Recently she went on hunger-strike to protest the extreme conditions and illegal forced labour at the IK-41 work-camp, where she is held in the Russian Republic of Mordovia. She is enduring a two-year sentence handed down almost directly by Russian President Putin for the "Punk Prayer" Pussy Riot performed in Russia's central cathedral. Verzilov is in close touch with both Nadya and the other imprisoned member of Pussy Riot, Maria Alyokhina. He visits them regularly, working with their legal counsels to bring news to the public from their respective internment camps.
Verzilov was furthermore a member of the Strategy 31 protests, and helped organize the Anti-Seliger and Last Autumn opposition forums. Most recently, he played a role in the campaign of the anti-Putin candidate in the Moscow mayoral elections.