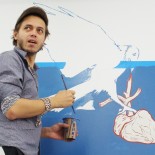 har utviklet en unik praksis med kollektive "learning murals" (didaktiske veggmalerier) og grafisk design i tradisjonen etter sovjetisk monumentalmaleri, samt tegneserier og surrealistisk billedspråk med røtter i pønk-kultur. En antifascist i tradisjonen etter John Heartfield, medlem av Chto Delat? og opprør-pønk-folk bandet Arkady Kots for å nevne noe.
////////////////////
Nikolay Oleynikov er en kunstner og aktivist med base i Moskva. Han er medlem av Chto Delat/What is To Be Done? (Hva må gjøres?), redaktør av Chto Delat? sin avis og medlem av redaksjonsrådet for Moscow Art Magazine (2011). Han var en av grunnleggerne av Learning Film Group og Mai-kongressen for kreative arbeidere og er med i bandet Arkady Kots. Oleynikov er kjent for sine pedagogiske veggmalerier og grafisk design i en tradisjon etter den sovjetiske "monumentale" tradisjonen, tegneserier, et surrealistisk billedspråk og røtter i punk-kultur. Han er representert over hele verden både gjennom sine egne prosjekter og som medlem av ulike kollektiv. Oleynikov har hatt en rekke internasjonale utstillinger, blant annet ved: Färgfabriken, Stockholm; Musée d´Art Moderne de la Ville de Paris – MAM/ARC, Paris; Serralves Museum, Porto; Cittadellarte – Fondazione Pistoletto, Biella; Museo dell Arte Contemporaneo Luiggi Pecci, Prato; Scipione Culture House, Lecce and Lungomare, Bolzano; X BALTIC TRIENNALE in Vilnius; KIBLA, Maribor; , Graz; Welling School, London; State Tretyakov Gallery; og Paperworks Gallery, Moskva.