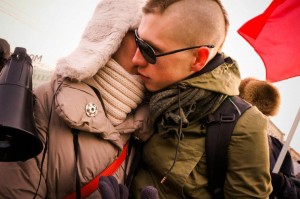 er aktivist-kunstner og politisk aktivist, hvis kunstneriske praksis har ført til soning i Buturskaya-fengselet og gjort ham til vinner av Alternativ-prisen for aktivistkunst. Han er den nåværende organisatoren av dissident-tradisjonen med "Mayakovsky-opplesninger" i Moskva.
/////////////////////////
Matvei Krylov er aksjonist-kunstner og politisk aktivist. Han begynte å jobbe med politiske spørsmål i 2003, og er en hyppig deltaker i fredelige okupasjoner av administrative bygninger og offentlige institusjoner. Krylov står bak performancen Head Count i M&J Guelman Gallery; var medarrangør av utstillingen Party Riot Bus til støtte for Pussy Riot, vinneren av Alternative Prize of Activist Art og deltaker i Media Impact Festival of Activist Art. Han er også arrangør av protestpoesi-kvelder ved statuen av Majakovskij (en mangeårig opposisjonell tradisjon) på Triumfalnaya Square i Moskva, kalt "Majakovskij Readings".
Arrestert i 2011 for å ha fornærmende en aktor, og satt en tid inne på Buturskaya fengsel i Moskva. Tidligere har han blitt dømt til et år i fengsel etter å ha blitt anklaget for ekstremisme.
For øyeblikket jobber han med LHBT-rettigheter og på kampen mot narcophobia. Krylov er medforfatter av en rekke kollektive kunstprosjekter. Han beskriver seg selv som anarkist og anti-fascist.
Bilder fra et utvalg aksjoner:
http://skif-bratok.livejournal.com/272477.html
http://skif-bratok.livejournal.com/279024.html
http://skif-bratok.livejournal.com/274643.html
http://skif-bratok.livejournal.com/284567.html
http://mnog.livejournal.com/245715.html