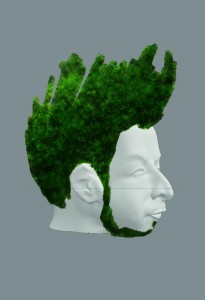 er fra Jekaterinburg, bor og arbeider nå i Moskva, har utviklet en teknikk for å lage portretter og skrive med gress.
////////////////////////////
Sergej Kletsjev, kjent som Monobrow, (f. 1987) ble født i daværende Sverdlovsk, vokste opp i Jekaterinburg og bor i dag i Moskva. Han studerte først arkitektur, ved Ural State University of Architecture and Arts i Jekaterinburg, men er utdannet illustratør fra British Higher School of Design, med Victor Melamed som veileder. Han har arbeidet i Kommersant Publishing House, designbyrået State og Art Lebedev Studio.
 Utstillinger:
– A series of self-portraits, Loft 2010, Yekaterinburg
– Stop it! Who's Going? Vinzavod 2010, Moscow
– The fourth dimension, Tele Club 2010, Yekaterinburg
– Christmas trees, capital of the Urals i 2009, Yekaterinburg
– Museum of Writers 2008, 2009, 2010, 2011, Yekaterinburg
– Long Stories of Yekaterinburg 2009, 2010, Yekaterinburg
– House Metenkov, modulbasert utstilling 2005-2008, Yekaterinburg
– Space: Open, Yekaterinburg 2010
– BRURAL, NY, Brooklin, 2012
– Den første Kyiv Biennale of Contemporary Art, 2012
– Helsinki, Kiasma, gatekunst, 2012
– March 1, Moscow, 2013
Gateprosjekter i Yekaterinburg, Perm, Samara, Helsinki, Kiev and Moscow.
Har lyst til å gjøre noe storslagent.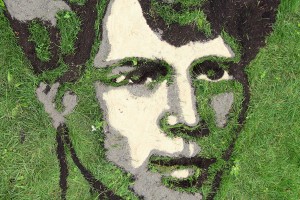 Sergey Kleschev
Monobrow
Just Monobrow