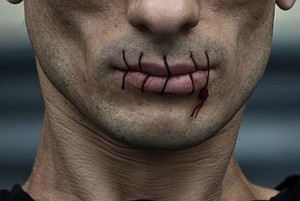 Pyotr Pavlenskys offentlige kropps-aksjoner "involverer faktiske maktmekanismer". Performancer der han syr igjen sin egen munn i protest mot arrestasjonen av Pussy Riot, eller ligger naken i piggtråd for å protestere mot restriktive lover, har fått stor internasjonal oppmerksomhet.
///////////////////////////
Pyotr Pavlensky (1984-, Leningrad) er utdannet ved Sankt Petersburg Statlig Kunst- og Industriakademi og stiftelsen Pro Arte. Han jobber med aksjoner og performanser i det offentlige rom, og er grunnleggeren av bladet Politicheskaya Propaganda (Den politiske propaganda).
"Menneskekroppen er noe som maktmekanismer som staten og samfunnet forsøker å disiplinere ved å sette den i fengsel eller skade den. Ved å arbeide som kunstner bruker jeg min kropp slik som staten misbruker samfunnet. Disse prosessene reflekterer og er et metafor for hva som skjer med den sosiale kroppen. Ved å utføre arbeidet på offentlige steder, engasjerer jeg selve maktmekanismene i aksjonene."
Selected Projects and Works
Carcass, in front of the City Parliament of St. Petersburg, 2013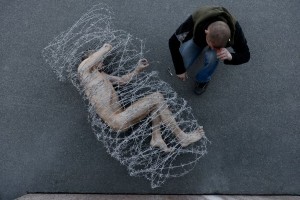 Politpropaganda.com, Political Propaganda, internet journal launched in 2012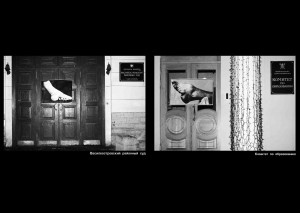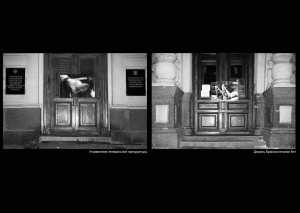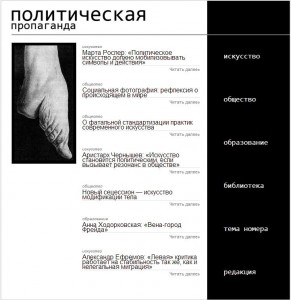 Seam 2012 In fron of the Kazansky Cathedral in St. Petersburg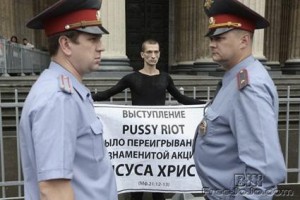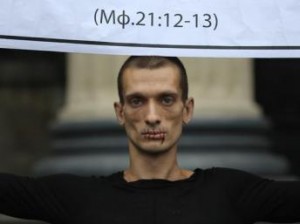 Invincible Victory, installation 2012.