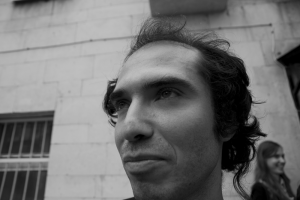 er en internasjonalt anerkjent russisk poet, oversetter og sosialist fra Moskva. Han ga ut en antologi på engelsk, "It's No Good" på Ugly Duckling Presse i 2012. Medvedev er grunnleggeren av Free Marxist Press og opprør-punk-folk bandet Arkady Kots.
/////////////////
Kirill Medvedev er en revolusjonær russisk poet, oversetter og hard-core sosialist fra Moskva. Diktsamlingen, It's No Good, ble i fjor utgitt av forlaget Ugly Duckling i New York. Samlet mellom to permer finner man her et utvalg dikt fra Medvedevs fire tidligere diktsamlinger, i tillegg til hans mest betydningsfulle artikler: My Fascism (om den feilslåtte russiske liberalismen som vokser frem etter Sovjetunionen, politisk og kulturelt), Literature and Sincerity (om tiltrekningskraften og farene ved "den nye oppriktigheten" i russisk litteratur), Dmitry Kuzmin, a Memoir, (en detaljert biografi og analyse av arbeidet til poeten, forleggeren, og impresario Kuzmin i Moskva på 1990-tallet, og hva hans arbeid representerer).
Kirill er også en av medlemmene som grunnla opprør-folk-punk bandet Arkady Kots. Mannen som ga opphav til bandets navn var også russisk revolusjonær, poet og oversetter, blant annet oversatte han Internasjonalen til russisk. Denne første oversettelsen ble senere nasjonalsangen til den tidlige Sovjetstaten. Da bandet debuterte med sin første konsert i 2009 var de to personer på scenen. Kirill Medvedev på vokal og akustisk gitar, og Oleg Jouravlev, en ung russisk sosiolog som gjorde alle arrangementene. I dag er de totalt ni musikere i bandet.