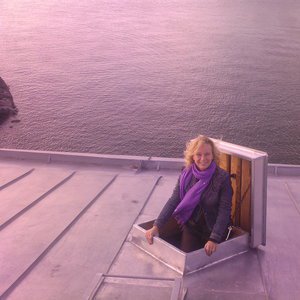 Co-Founding Director of Perpetuum Mobile.
Co-Curator of the Re-Aligned Project
Marita Muukkonen is an internationally active curator based in Helsinki and Berlin, and a co-founding co-director of Perpetuum Mobile. She has been Chairperson of HIAP – The Helsinki International Artists-in-Residence Programme;  Curator at HIAP; Curator at FRAME – The Finnish Fund for Art Exchange; Editor at FRAMEWORK – The Finnish Art Review (the international art magazine); and held key functions at NIFCA – The Nordic Institute for Contemporary Art over several years.
Marita has curated exhibitions and projects internationally, including at museums such as in MoMA in New York, Moderna Museet in Sweden, Kiasma – Museum of Contemporary Art in Finland and galleries such as Momentum Gallery in Berlin, Bo Bjerggegaard Gallery in Copenhagen. She has curates and co-ordinates exhibitions and events in biennial-contexts, including the Perpetual Pavilion (Venice 2009), The Finnish Pavilion in Venice (2009), The Nordic Pavilion (2009), The Arts Assembly (Manifesta 8, 2011), The Nordic Pavillion in the Dak'art Biennale (2012), and the School of Displaced Persons (Kiev Biennial, 2015).
In relation to China, Marita established and curated a residency programme for Chinese artists and curators in Helsinki at HIAP. This included residencies and talks by Li Zhenhua, aaajiao, Feng Boyi, Yang Fudong, and Dong Bingfeng among others. In China, she curated a screening programme of works by key Finnish experimental film and video artists from the mid-1990s to the present, in conjunction with the T.B.F.M. 2013 exhibition curated by Li Zhenhua at K11 Art Mall in Shanghai.
Currently, among several ongoing projects, Marita is currently co-curating the large-scale 5-year international thematic Re-Aligned Project. This Perpetuum Mobile project has travelled across continents, with exhibitions, conferences, research and events in Helsinki, Berlin, Moscow, Tromso, Arkhangelsk, Murmansk, Yekaterinburg, Edinburgh, Cairo, Ramallah and London. She continues to curate residency-based projects in collaboration with HIAP and, with Perpetuum Mobile, is co-curating a 2-year project with Moderna Museet in Sweden. Marita is a contributor to art journals, catalogues and publications.