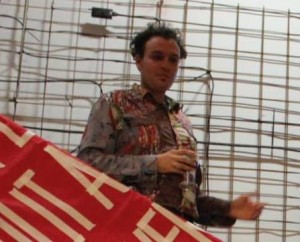 Co-Founding Director of Perpetuum Mobile.
Co-Curator of the RE-ALIGNED Project.
Ivor A Stodolsky is a curator, writer and theoretician based in Finland, Germany and France. His engaged curatorial practice is informed by his theoretical work at the intersections of art, politics, history and philosophy, resulting in thematic projects with exhibitions, conferences, residencies and events internationally. He is also the the editor of related publications and films. Recent projects include The School of the Displaced (Kyiv Biennial 2015), Pluriculturalism (Moderna Museet, Malmö), The Square (a pre-mondial newspaper), Back To Square 1 and To The Square 2 (Checkpoint Helsinki),  the 4th Roma-Gypsy Pavilion (Cineromani, Berlin), Re-Public (Urb Festival, Kiasma, Helsinki), Re-Aligned Art from Russia, Ukraine and Belarus (Tromsø Kunstforening), Re-Aligned/Media Impact (Moscow Biennale) as well as many other Perpetuum Mobile projects.
Perpetuum Mobile is a curatorial vehicle he founded together with Marita Muukkonen in 2007. Ongoing larger-scale umbrella-projects include the Re-Aligned Project (with over 9 iterations in several countries), the Perpetual Pavilion (including the 2nd and 4th Romani-Gypsy Venice Pavilions), Residencies for Artists at Risk (Fresh Air/HIAP), Perpetuum Labs (BAC Visby, Helsinki), The Arts Assembly (Manifesta 8, Beaux Arts Paris, CAFA Beijing, Ekaterinburg, etc), SINO-FI (Finland/China) and the Outside Insiders Project (Moderna Museet, Malmö). Most recently PM launched The School of the Displaced at the Kyiv Biennial 2015.
Ivor Stodolsky holds a BA in Philosophy and Mathematics from Bristol University, an MRes from the London Consortium (Birkbeck, Tate, ICA, BFI and AA), and was a researcher at the Aleksanteri Institute, Helsinki University, a base for his field research in St. Petersburg, Russia. He continues to develop his theoretical work in cooperation with academics and independent thinkers.
From early in life, Ivor Stodolsky has been close to movements in poetry, music, film and art. He has been active in artistic movements in Munich, London, St. Petersburg, Vienna, Prague, Helsinki and Berlin. Associate Editor of the op-ed syndication service Project Syndicate (www.project-syndicate.org) for some years, he returned to academic research in 2003. He has been an active curator since 2007.