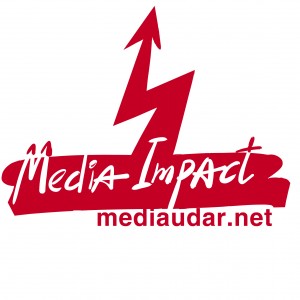 har siden 2011 organisert de første festivalene for aktivistkunst i Russland. De er en plattform for slik kunst, og har laget utstillinger, samarbeidet internasjonalt og bidratt til diskusjon og praksis på dette feltet i Russland, koordinert av Tatiana Volkova fra Zhir Gallery.
///////////////////////////
MediaImpact – International Festival of Activist Art (MediaImpact – internasjonal festival for aktivistkunst/politisk kunst) arbeider med å utforske, fremme og utvikle aksjonsbasert kunst – kunst som søker å skape sosiale endringer. MediaImpact er den første festivalen av sitt slag i Russland som arbeider med fenomenet aktivisme som kunst på ulike måter – i utstillinger, praksis og som dialog og samarbeid. Festivalen har et stort geografisk nedslagsfelt og utgjør et omfattende nettverk av media-aktivister fra ulike regioner i Russland og tidligere Sovjetunionen:  Moskva, St. Petersburg, Krasnodar, Novosibirsk, Murmansk, Jekaterinburg, Yerevan, Minsk og Kiev, samt til kontakter i Europa og Nord-Amerika.
MediaImpact ble initiert av ZHIR (et visningsrom og forum for aktivistkunst) i Moskva høsten 2011 og har arrangert utstillinger, foredrag og verksteder ved kunstsenteret ARTPLAY med støtte fra The Partisan Museum. Kunstneriske intervensjoner har etter hvert funnet veien ut i gater og offentlige rom. Kunst som i full offentlighet tar til orde for sosiale endringer er et relativt nytt fenomen i Russland. Kunstnerne forener krefter med subkulturer og sosiale bevegelser, og nye kollektiver oppstår. Kunstnerne er aktivister – aktive deltagere i dagens sosiale og politiske virkelighet. Fremveksten av et sivilt samfunn i Russland har på den ene siden vært preget av et økt antall massedemonstrasjoner, og på den andre siden av politisk undertrykkelse. Aktivistkunsten har vokst frem parallelt med dette, og kunstnerne blir i en slik sammenheng forløpere og katalysatorer for sosiale prosesser. Når de går ut i gatene for å konfrontere det etablerte systemet inntar de også en heroisk rolle.
MediaImpacts prosjekt rommer en rekke ulike kommunikasjonsstrategier og former for aktivisme, som for eksempel kunstprosjekter med små lokalsamfunn, metoder hentet fra økologi og kulturarv, politikk, taktisk bruk av medier, protestmusikk og miljøbevisst kunst. Programmet til MediaImpact består av gjesteatelieropphold, workshops, presentasjoner, diskusjoner og debatter i tillegg til utstillinger og kunst i  offentlig rom.